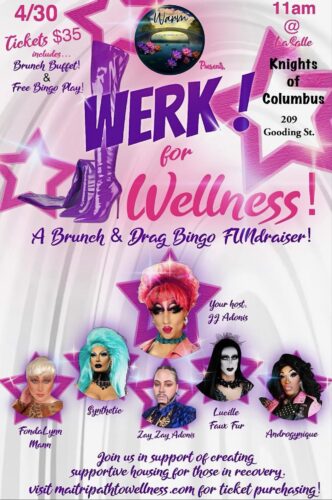 This event is not to be missed – with a lively, friendly atmosphere and fabulous prizes up for grabs, it's sure to be a blast. If you've never played Drag Bingo before, you're in for a treat! Our amazing host JJ and friends will be calling out the numbers and performing entertaining routines in between games. Get ready for an unforgettable afternoon of high-energy, hilarious entertainment with Drag Bingo hosted by JJ and friends!
You can expect to see dazzling costumes, hear some hilarious jokes, and even participate in some audience interaction. This isn't your ordinary game of bingo – it's a lively, high-energy event that's sure to leave you smiling. But the fun doesn't stop there – with a delicious brunch included in the ticket price of $35, you'll be able to fuel up and keep the energy going all afternoon. And don't worry about drinks – we'll have a skilled bartender on staff to pour you your favorite beverages throughout the event. Not only will you be having a blast, but you'll also be supporting an amazing cause.
Proceeds from the event will go towards Wellness and Recovery with Maitrī Inc NFP (WARM), a non-profit organization dedicated to helping those struggling with addiction and mental health issues. By joining us, you'll be making a real difference in the lives of those in need.
Tickets are going fast, so don't wait – act now to secure your spot for this unforgettable afternoon of Drag Bingo fun! See you there.